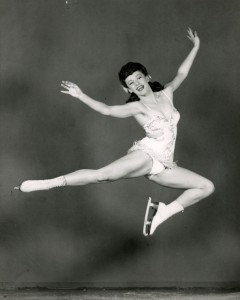 Ice Capades star Donna Atwood signed with the Ice Capades at age 16, and within a year, she was its star.
Billed as "the Sweetheart of the Ice," she toured the U.S. and Canada for 15 years, giving more than 6,000 performances in two dozen venues, The Times reported in 1956.  She had spent almost half her life on the road when she left professional figure skating behind at 31 to raise her three young children.
Disney used her as one of two human models for the ice skating sequence with Bambi and Thumper in the 1942 animated Disney movie "Bambi."
She was so famous that headlines from the era used only her first name. "Donna to Retire in 1956 for Home Life," said one atop an article that portrayed her as longing to "trade it all in for 'home, sweet home.' "
Yet it was a bittersweet decision for both Atwood and her husband, John H. Harris, operating owner of the touring Ice Capades show. To have his wife home full time, he had to give up the longtime star of his successful enterprise.
She passed away in 2011 at age 85.
Donna Atwood — Sweetheart of the Ice