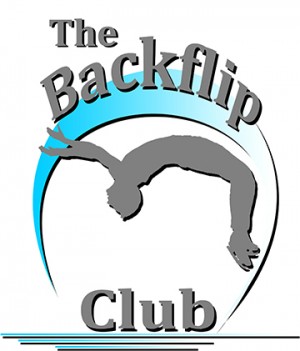 Did you land a backflip on ice skates? This crowd-pleasing skill has been around since the 1950s, but very few have mastered it, yet alone performed it in a show.
Send us a photo, along with your best recollection of the date you first landed it and how you learned to do it! We'll post it on our Facebook page and on our website.
Skippy Baxter may have been the first to land the backflip on skates as a professional show skater.  His daughter, Debbie, reports that her uncle Meryl Baxter actually taught her Dad how to do the flip. He'd seen others doing the backflip at the coast in the sand and tried it on ice at the Broadmoor Skating Club while stationed in Colorado for basic training in 1942 or 1943. They were both in the 10th mountain division — the ski patrol!
Reportedly the fourth in the world to land a backflip, Russell Mullen skated with the Ice Capades in the 1940s.  He is pictured below landing a backflip on outdoor ice in New Hampshire in 1949.
Adam Blake is doing a backflip in this time-lapse photo, and with a little photo editing, he is sailing over his own cantilever!
Adam learned to land the backflip under the tutelage of Larry LaBorde at the Ice Chalet in Knoxville, Tennessee in May of 2007.
Other members of The Backflip Club:
Scott Hamilton
Robin Cousins
Jeff Whalen
Jimmie Santee
Jaimee Eggleton
Surya Bonaly
Brian Orser
Michael Weiss
Ryan Bradley
Doug Mattis
Kim Muir
Ashley Clark
Larry LaBorde
Adam Blake
Austin Blake
Aaron Blake
Janet Champion
Dan Hollander
Richard Dornbush
Brendan Kerry
Philip Warren
Jonathan Voyles
Caleigh Newbery
Jozef Sabovcik
Terry Kubicka
Scott Cramer
Philippe Candeloro
Lori Benton
Gigi Percelli
Joey Percelli
Robert Przepioski
Kelsey Parker
Rory Flack-Burghart
Robert Wagenhoffer
Ken Shook
Michael Turner
Chris Dougherty
Skippy Baxter — perhaps the first in the 1940s?  Last one landed at age 70!
Ed Raiche — also in the 1940s
The Mullen Twins — also in the 1940s
Russell Mullen – 1949
Mike Course — one of the first in 1957
Katy Garrity
Clément Pinel
Norman Donald Sullivan
Nathan Chen
Elladj Balde'
Keegan Messing
Billy Henry, Jr. & Billy Henry (father & son act) – 1959-1961 Ice Capades
We'll add more information and history as the club grows!  Your contributions are invited.
Amazing videos available on YouTube:
Summer On Ice 1961 – Ice Capades Show
E-mail us at info@proskatinghistoricalfoundation.org