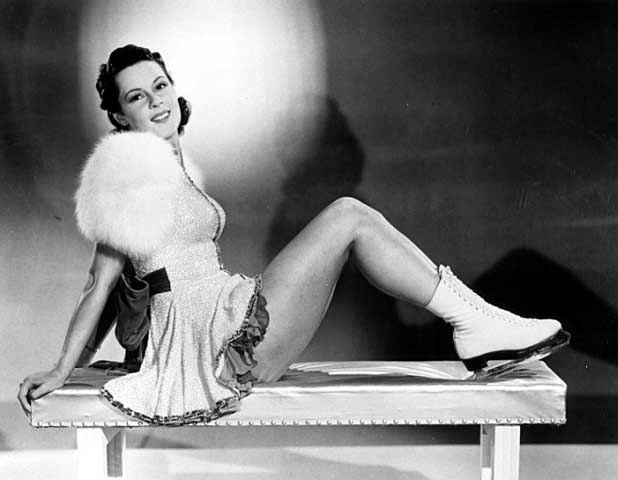 Bess Ehrhardt was born January 21, 1916 in Superior, Wisconsin to Wellington H. and Bess B. Ehrhart, and given her mother's name. The area was experiencing a cold spell with the temperature falling to -31 (F). Her father, who used his middle name Howard, was the chief clerk for the Pittsburgh Coal Company, which must have given them security for a heat source during that cold winter. In birth and census records dating back several generations prior to Bess' birth, their surname name is spelled "Ehrhart". About the time she started skating professionally, the spelling of the last name changed.
Bess was the middle child of three girls. Her older sister Florence (named for her paternal grandmother) was born in 1912 and her younger sister Margery born in 1918. Like many middle children she was competitive and enjoyed speed skating in local races. A champion speed skater in her home town of Superior, Wisconsin, she attended a 1932 exhibition of figure skating where she met Roy Shipstad and arranged to take a few lessons from him.
Ice Follies' program notes tell us: "She turned her attention to this art and practiced diligently. Three years later she tried out for a place in the skating ensemble appearing at the College Inn in Chicago's Sherman House Hotel." She won a spot in the chorus. One month later Bess knew she wanted to leave group skating and become a solo skater. She was willing to do the hard work it would take. Roy Shipstad became her skating coach and her partner. And by early 1936, she left the chorus and became a headliner.
During the She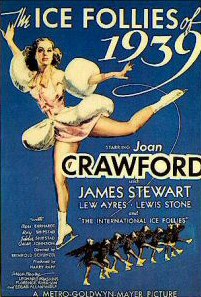 rman house engagement, Bess, the Shipstads, and Oscar Johnson would perform between hockey periods at local rinks as well as other exhibitions. Bess' daughter, Jill Shipstad, wrote: "In those days skating acts did encores, sometimes as many as five or six if the applause demanded it. In one particular exhibition my mother had more encores than Sonja Henie. As I understand it, the press had a field day!"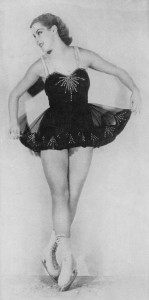 Bess was acknowledged as a great beauty. Her larger than life personality, engaging smile, sense of fun and ready humor, combined with her beauty and lovely brunette hair, made for a radiant and charismatic presence. This obviously had an impact on Roy Shipstad as well as audiences because he and Bess married in October 1936, one month before the first presentation of Ice Follies. Stars at that time were advised to remain single because it was believed to be more glamorous, and marriage would hurt their popularity.
In keeping with the custom of the time, their wedding was kept secret and not announced until nearly sixteen months later. On January 25, 1938 the newspapers ran the image of Mr. and Mrs. Roy Shipstad with the following notice. "Announcement of the marriage in October, 1936, of Roy Shipstad, St. Paul professional skating champion, and Bess Ehrhardt, figure skating queen, has just been made by the bride's parents in Superior, Wis. The wedding occurred in Hudson, Wis. Shipstad and his wife first met in Duluth in 1932, when Miss Erhardt became a member of Shipstad's skating class." One month after their wedding they were in the throes of the first Ice Follies tour in 1936. Their daughter Jill said, "My mother did tell me that she had a roommate, a girlfriend at the time, who had a not inconsiderable crush on my father. It probably made for awkward comings and goings!"
The initial performance of Ice Follies was November 7, 1936 in Tulsa, Oklahoma. According to Jill there was a flu epidemic at the time. The cast was backstage trying to quiet their extreme nervousness and stage fright before the opening number. "The story goes that Oscar Johnson peered out the curtain and saw a very small audience. The town was home with the flu apparently. He turned back to the nervous cast and said, 'Don't worry kids. We outnumber them.'"
Ehrhardt's popularity grew, and shortly after the tour began she was christened "America's Sweetheart of the Ice" and became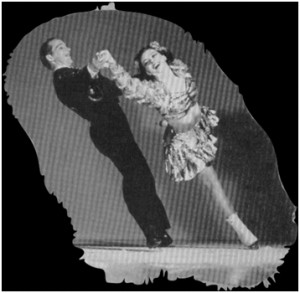 the lead of Ice Follies. Jill repeats a story of early touring hazards. "When the show first began to tour they rented a Greyhound bus, and believe it or not, the entire cast, crew, sets, wardrobe, and production staff traveled in that bus. It was overweight by any standard and when the show crossed the state lines, everyone would crowd to the back of the bus when the front was weighed, and then race to the front of the bus when the back was weighed. It was 'pioneering' at its most exciting." As the show matured, so did its travel arrangements, and a train became the standard mode of transport.
By the following year Ice Follies was touring through many major cities. Earl Reflow, a St. Louis promoter, was one of the first to host the group during their start-up year and was anxious to have them return in 1937. The area newspaper informed the local citizens that "a cast of 50 skaters, including speed skaters, hockey players and figure skaters will appear November 5, 6, and 7 in a skating carnival known as Ice Follies of 1937." It advertised over 20 varied skating acts each night. It is interesting that Bess was first in the non-alphabetical list of stars. Also appearing was Earl Hammon and his eskimo dogs and Siegfried Steinwall, a ski jumper from Oslo, Norway. A very young child skater, Reflow's daughter Shirley Sherman (née Reflow), remembers the dazzling beauty of Miss Ehrhardt.
Bess' star quality was endorsed by the motion picture "Ice Follies of 1939" starring Joan Crawford and Jimmy Stewart. The International Ice Follies cast played an important part in the movie with several having step-outs. The Shipstads and Johnson played themselves. Bess played the role of Kitty Sherman and is the only skater to have credits "above the fold." According to Mark Deming, "the producers of Ice Follies of 1939 worked with the Shipstads and Johnson Ice Follies troupe to stage the film's spectacular closing ice ballet, which was filmed in Technicolor (the remainder of the film was shot in black and white)." The film created excitement and gave attendance at the cities in the tour a remarkable boost in numbers. It also garnered them enormous publicity.
A photo of young skater Louella Rehfield (née Ettinger) performing a spiral with Bess and Evelyn Chandler appeared in the September 18, 1940 issue of the Los Angeles Examiner. Louella says, "My personal reaction to Bess was that she was one of the prettiest ladies I had ever met and that she and Roy made such a handsome couple. She was a very nice person and well-liked." Bess had the gift of creating friendships and her best friend in the show was Evelyn Chandler. According to Jill Shipstad, "My mother loved Evelyn as a friend and as a performer." An avid horseman, she even named her beloved horse Chandler as a tribute to her friendship. Ehrhardt left Ice Follies in 1943 and gave birth to daughter Jill in 1944. Jill herself joined Ice Follies in 1961.
Bess continued to skate after retirement, enjoying the exercise and the social aspects of going to a session. She added ice dancing to her skills and enjoyed this new expression. Bess and Roy were divorced February 27, 1948. She coached for a short time in the 1950s. A slipped disc required back surgery. Jill revealed "Unfortunately, she had pain in her spine the rest of her life. The ba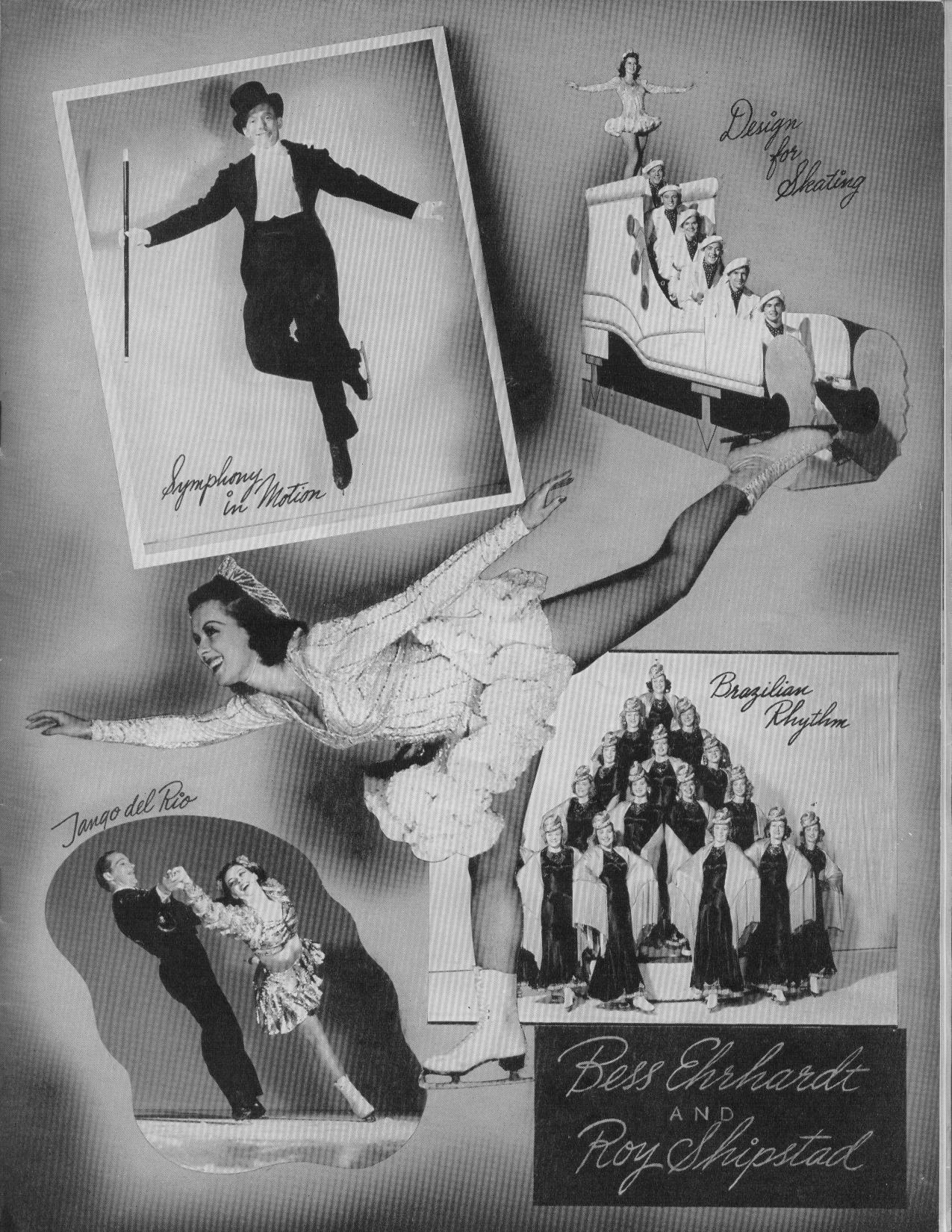 ck surgery ended her coaching, her horseback riding, and even her social outings at the rink." However, she continued to enjoy swimming and was known to be a good swimmer.
The Desert Sun Newspaper on September 9, 1975 ran the headline "Skater's Body Found in Pool". "Bess M. Shipstad, a former Ice Follies performer, was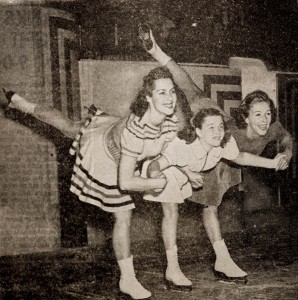 found dead in her backyard swimming pool Monday afternoon [September 8, 1975] after apparently drowning." She was discovered about 12:45 that day and had been last seen alive at 8:15 that morning.
Bess Ehrhardt was admitted to the Superior, Wisconsin Hall of Fame in 1969 and the Duluth Arena Sports Hall of Fame in 1983.
My thanks to Jill Shipstad, Louella Rehfield, Don Watson, Carl Moseley, and the Earl Reflow collection for their memories and assistance in writing this article.
Written by Janet Wright
Bess Ehrhardt – Figure Skating Queen