Norval Waite Baptie's mother was born in Scotland, which might have something to do with his unusual first name. The name Norval is from the Scots Gaelic language, is pronounced as nor-vel and means "from a village in the north." Baptie is usually thought to be French but is actually from the ancient Greek or Roman "baptistes" meaning to bathe or dip.
Born in Bethany, Ontario on March 18, 1879, Norval Baptie's family moved to Bathgate, USA Dakota Territory, at a the age of one. His adult career influenced the entire sport of skating as a world record speed skater, designer of blades, impresario, performer, figure skater, and coach. Before his death November 26, 1966, he saw himself inducted into Canada's Sports Hall of Fame in 1963.
The Pembina County Historical Society reports "He won his first race when he was only 10, on a patch of ice in Bathgate. He was Northwest senior champion at 13 and beat the world amateur speed skating champion at 16." Somewhat out of context they continue, "In 1914 he organized the first ice show."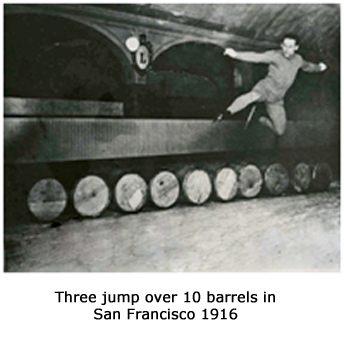 Ever competitive, Baptie offered a 1917 challenge to race for "love, money, or charity." It appears the few who accepted the challenge later withdrew. At the height of his speed skating career, Baptie would challenge skaters to a race in which he would allow his opponents to skate in their normal style and he skated backwards.
He shattered every amateur and pro speed speed skating record over his speed skating career, winning nearly 5000 races. Various records claim he lost just one race in his entire career; however, the December 28, 1920 New York Times calls him an "undefeated champion" when he performed (and won) a race two years after his racing retirement.
Expanding his scope to stunt and figure skating, he set new records for skating backwards, barrel jumping, and stilt skating. He is pictured in San Fransico in 1916 doing a 3 jump (waltz jump) over 10 barrels for a distance more than 20 feet. He is credited with originating the adagio airplane spin.
Baptie said "I always view with pride, … that in 1902 at Saranac Lake, NY, I managed to win the five mile race and win the world's record of 14 minutes, 47 3/5 seconds, which still remains the established record for that distance." These remarks are from a 1929 interview for the New York City Public Schools Athletic League Annual. He closed the interview with "… at this point I might say a good word for fancy skating. Few activities add so much to the grace and build of a man or a woman as does fancy skating for the benefit of those who might like to take it up. The gyrations, bending, twistings, and curves of fancy skating give one more healthful exercise than any number of daily dozens."
Baptie gravitated from solo exhibitions when he paired with Gladys Lamb for fancy skating performances. Skating historian Roy Blakey tells us: "In 1915 they starred in the night club ice show atop the 44th St. Theatre in New York City. A newspaper article reported then that Gladys had been a dancer in Chicago where Norval was appearing in a tank show and he taught her h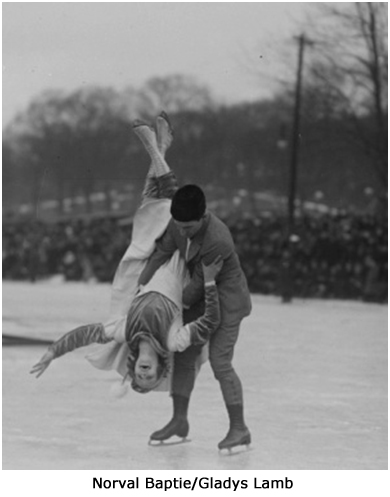 ow to skate. Colliers magazine writes he and Lamb were married in 1924."
Sally Berens, his Great Granddaughter from Baptie's first marriage to Lillian, reveals Baptie had contracts for tank shows in the 1920s for over $1200 per night to perform.
The United States Census for the years 1910 and 1920 show Baptie married to Lillian E.M. Baptie who was living in the state of Washington. Obviously a divorce took place before his 1924 marriage to Gladys Lamb but the exact date cannot be determined.
At the end of World War I Baptie launched one of the world's first touring ice shows, nearly two decades before the 1937 birth of Ice Follies. According to Roy Blakey, Baptie and Lamb did many shows including a 1935 Hotel Sherman show in Chicago with Eddie & Roy Shipstad, Oscar Johnson, and Bess Ehrhardt. Perhaps the idea for Ice Follies began here.
One of his professional friendships was with Earl Reflow, manager of the St. Louis Winter Garden. Reflow had a serendipitous route to the world of ice skating. A former prize fighter, vaudeville actor, politician, and hotelier before taking over the Winter Garden in 1922, Reflow successfully promoted all types of ice shows, midget auto racing, boxing, rodeos, and brought professional hockey to St. Louis. Baptie and Reflow appear to be men much alike in seeing public interest in figure skating exhibitions.
Not only did Baptie and his wife Gladys Lamb skate in Reflow's shows, he also taught for a time at the St. Louis rink. Shirley Sherman (née Reflow) remembers "Back in those days Norval was the only coach in the Winter Garden. [It was] open in September until sometime in the spring. He looked grumpy but was very gentle with me. In the earlier 30's there weren't many little kids figure skating. I think he felt sorry for a little girl struggling around school figures!" She remembers he taught her the first figure test. Obviously equally impressed by Baptie's partner, she continues, "Gladys Lamb was a very glamorous blonde and I thought she was a beautiful lady." I asked Shirley about the relationship between two impresarios like Baptie and Reflow. She replied, "I only remember Daddy having complete faith in him."
Baptie retired from performing in 1938 and devoted full time to coaching skating. A trunk full of Baptie memorabilia such as show programs, contracts, and items he had saved were donated by his great grandchildren to the USFS.
Great Granddaughter, Sally Berens, writes: "We really don't know very much about Norval in a personal way. He left my Great Grandmother (Lillian) with lots of kids to raise, and

I assume that they were divorced, but in those days I'm not quite sure if that was accepted. My Grandmother didn't really talk about him very much because of this."
Sally's Grandmother may not have talked about him, but the Baptie talent could not be silenced and was followed by his descendants from that first marriage. Sally continued, "He gave my Mom figure skates at the age of 15 to learn to skate so when she became old enough she could join one of his shows. My Grandmother frowned upon this though, as none of his children skated. My Mom did learn and became very proficient at it, qualifying for Nationls in ice dancing and later she became a World and Olympic coach. There is an award in her name, the Betty Berens Award that the PSA hands out every year."
The family went on to accumulate glory. Sally skated at the national level before joining Ice Follies. Another Great Granddaughter, Susan Berens, was a World Team member in the 1960s before joining Ice Follies. Grandson Dick Hunt was an Olympic speed skater competing in both the 1960 and 1968 games. Great Granddaughter Vicky Swanson was a speed skating national champion.
Baptie was also influential in the design of skates. He helped design the tubular racing skate and eliminated the curled figure skating blade. It is unfortunate he is not given the credit deserved for these innovations.
Baptie continued to coach after losing both legs from complications from diabetes. After this double amputation, a nurse was always with him to drive him to the rinks and give him physical assistance. Skating video collector Carl Moseley remembers "About 1957 or so, when I was at the Philadelphia Skating Club, an old gentleman without legs was wheeled into the club rink to teach by the ice. When I asked who he was, I was told that his name was Norval Baptie!"
After several years of care in a nursing home, Norval Baptie died at the age of 87 and was laid to rest in a Bathgate ND cemetery.
Written by Janet Wright
Norval Baptie, the Complete Skater