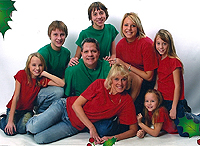 Lisa Lauten grew up skating in Milwaukee, Wisconsin. A small town, but she had big dreams! Immediately after graduating from High School in 1979, she was offered contracts with both Holiday on Ice and Ice Capades. At her coaches' encouragement she chose The Ice Capades. Lisa toured with the East, West and Continental Companies from 1979 to 1983. She was cast as an "Ice Capette" but also as a "flyer" by world renowned Peter Foy, of "Flying by Foy." Lisa was also chosen as Ice Capades poster girl for the 1984 to 1985 season. Her other shows have included Fire and Ice at the Hacienda Hotel in Las Vegas, Nevada, and Richard Porter's Production in Atami, Japan.
Lisa is currently involved in the biggest production number of her life…raising six children. Gretchen, Tyler, Nicholas, Olivia, Abigail and Carolyn are directed, choreographed and produced by Lisa and her husband, Steve Baumann. She met her husband on a golf course while taking a few months off before starting a show in Australia. He literally swept her off the Ice. They have been happily married for 21 years and are living just outside of Chicago.
"The friendships I have made during my time in the ice shows are irreplaceable, in fact they are priceless. We became a family. We all shared the same passion, the love of performing. That is the bond that has kept our friendships intact after all these years. ~Lisa Lauten Baumann"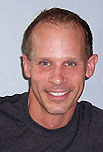 Ted Bogdanowicz
WHO KNEW?
That on a Sunday in the fall of 1969 a skating open house at the Michael Kirby Skating School River Forest IL, would change my life…
One Sunday afternoon in 1969, my mom took my sister Barbara and me to a skating open house at the Michael Kirby Ice Skating School in River Forest. It was there that I was to put on my first pair of skates and watch as Norah Kirby helped my sister lace up her first pair. In an instant we fell in love with skating. Mom signed us both up for classes and soon we entered local competitions and participated in the Kirby school ice recitals. We could not get enough of skating and learning new jumps, spins and tricks. The Chicagoland Kirby schools closed in 1973 but former students are still known today as "Kirby kids". Many of us regrouped at the Northbrook Park District Ice Arena. Einar Jonland (ISIA founding board member) and Frances Dorsey Friesen (two time US National Figure Skating medalist and principal skater in the Ice Follies), taught a competitive figure skating program with a strong emphasis on show skating. The annual show NORTHBROOK ON ICE, directed by Fran, was a highly anticipated community event and also proved to be great preparation for joining a professional ice show. Thanks to Michael Kirby, and the direction of Einar and Fran, I am one of many Chicago area skaters to pursue a successful professional skating career. Starting in 1977 I joined the ICE CAPADES East Company production of MAKE A WISH starring Dorothy Hamill with eight fellow Northbrook skaters. A total of ten skaters from Chicago were hired that year with eight of us from the Northbrook Ice Arena, a testament to the programs success. I continued performing with the ICE CAPADES in the 1978-79 East Company production of STARSTRUCK the 1980-81 East Company production of LIGHT UP THE ICE starring Tai Babilonia and Randy Gardner as well as the 1981-82 West Company tour of LIGHT UP THE ICE. In the subsequent years many more Northbrook skaters would join professional skating shows, in total forty six. (see list below)
Without a doubt, ICE CAPADES was an exciting glamorous experience and showcased the hottest and most innovative ice skating talents from around the world. The skaters, choreographers and staff became a tight knit family with lasting bonds into today and tomorrow. After Ice Capades, I pursued a successful career as a graphic artist in Los Angeles, London and currently Chicago. While I enjoy my work today, I also treasure the cherished friends and fantastic experiences that figure skating enabled. I look forward to reconnecting with my extended family and friends in Las Vegas for the 2010 ICE CAPADES REUNION. If you have not yet signed up please visit www.tdc.ca/icecapades/2010reunion.htm and sign up.

PHOTOSTRIP: 1969 Barb skating with Michael Kirby • 1970 on our way to a Kirby School recital, Barb and Ted • 1977 Ice Capades cast Chicago skaters: Kathy Porter, Debbie Mason, Debbie Lorenzo, Brad Doud, June Eagleton, Laura Petrovskis, Stephanie Perom, Beth Weinstein, Lori Porowinski and Ted Bogdanowicz • 1980 Ted Bogdanowicz, Frances Dorsey Friesen, Barbara Bogdanowicz • 1981 Ted Bogdanowicz
Northbrook skating talent that joined professional ice shows: Darlene Arnieri, Kim Barth, Barbara Bogdanowicz, Ted Bogdanowicz, Julianna Cashman, Patricia Cashman, Deborah Casanzio, Tom Cerniak, Amy Coe, Melissa Coe, Gina DiTardi, Brad Doud, June Eagleton, Lilli Erickson, Florence Erie, Tracy Forbes, Mark Forbes, Jennifer Johnson, Debbie Lorenzo, Dawn Lorenzo, Heidi Mallace, Jenny Martorano, Winfred Mayer, Jan O'Brien, Paula Orbeck, Jennifer Ostrem, Karen Ostrem, Lisa Oswald, Linda Paulsen, Laura Petrovskis, Nancy Pirwitz, Lori Porowinski, Kathy Porter, Dorsey Plummer, Deanna Reczek, Jill Reiter, Karen Reiter, Valerie Puzzo, Dawn Rogner, Barbara Russell, Chuck Shaull, Judy Shaull, Steve Shaull, Sue Shaull, Grace Trautwein, Bebbie Menzie Wells
More famed Kirby skaters include David Kirby, David Santee, Jimmy Santee, Will Grendall and Nancy Burian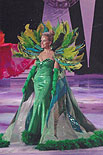 Jola Iglikowska Originally from Poland, Jola started her pro skating career in 1969 in South Africa with Producer Marjory Chase. She went on to skate with Holiday on Ice/Europe until 1976. From 1976-1981, she skated with Ice Capades, and in 1984 she performed in Fire 'n Ice/Las Vegas at the Hacienda (Producer Jerry Jackson).
She then went to skate in Japan for Producer Rick Porter and later returned to Las Vegas to do "Nudes on Ice" at the Plaza Hotel in downtown Las Vegas. More recently, she appeared in Legends on Ice in 2004 and played with the show in Long Beach, California and Caesars Palace, Las Vegas.
Where is she now?
Jola is now married to Mike Bench and has remained in Las Vegas. Her Mom ("Momma") has moved over from Poland to join her. Jola has a real estate license and is actively involved in the housing market. She also works at Neiman Marcus on the Las Vegas Strip. Jola says, "I am blessed!"
> Click to view a program photo of Jola Iglikowska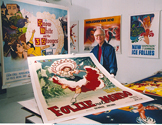 Roy Blakey, Chairman, Advisory Committee
A spectacular scene in a Sonja Henie movie sparked my love of theatrical skating and I began to collect pictures and magazine articles about ice shows. While learning to skate I dreamed of someday getting into a show and loved being part of the great 1950s and 60s ice show era when those prayers were finally answered. First, at the Casa Carioca for a year and a half in Garmisch, Germany; then five years in the Boulevard Room show at the Chicago Conrad Hilton Hotel; and eventually touring with Holiday On Ice for six fantastic years in Europe, Russia, South America, and Asia where I developed a life-long love of Thailand and Japan.
At the end of my last show tour in 1967 I planned to head to California to begin a new career as a photographer. The cast was flown from Rio de Janeiro to New York City where I expecteded to visit friends for three days....and stayed twenty-five years. For the first two of those I skated in a small exhibition four times a day at the Rockefeller Plaza ice rink. That financed the Manhattan studio for my "second life" photographing actors, dancers, musicians, and other entertainers - from great international stars to fresh-faced hopefuls. All the while I continued to gather memorabilia from the spectacular touring ice shows and those being created by ice champions who were becoming great skating artists and forming their own companies, and I documented the surge in popularity of skating on television.
Like me, my family members had all wandered away from Oklahoma, most of them to Minnesota. One niece, Keri Pickett, became a terrific photographer in Minneapolis and in 1993 I moved from New York to share a studio with her there. At age 78 I'm now retired and have time to document my IceStage Archive collection into the computer while looking for the eventual home where this great history of international theatrical skating can be accessible to researchers and the public.