For years, Inga Creations' warm-up suits and skating apparel were the staple of every young female skater. Some coaches dressed their students in the same style and color of "Ingas" to identify their rink and club.
Inga Schilling, frustrated that her students did not have proper warm-up suits, began knitting them in 1970. The demand was so great that by 1971 she went into full time production.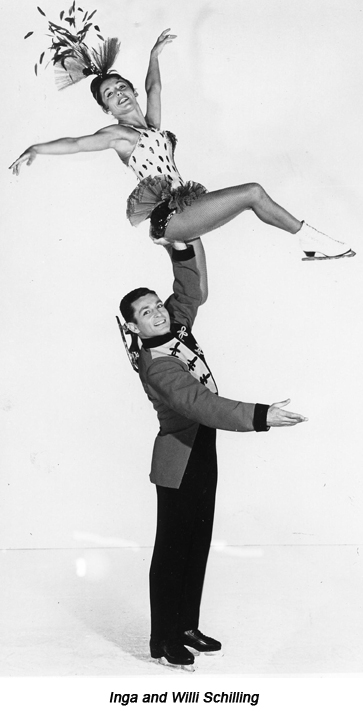 "I started with one industrial sewing machine. It took me forever to thread that thing," Schilling laughs. "I finally had to hire someone."
Her determination to succeed started in Germany where her childhood and teenage years were spent in a dance studio training to be a classical ballerina. She was exposed to theatrical skating at age 19 when she followed an aunt who was performing in the Eisballett Baier starring Maxi and Ernst Baier, 1936 Olympic pair champions. Schilling joined the show as a spotlight operator. Her stumbling, yet graceful, attempts to skate were noticed by Willi Schilling, a performer in the show, who became not only her teacher but eventually her skating partner and husband.
Her first professional skating appearance was in the Olympia Ice Review. After a short partnership with Felix Kasper she was reunited with Willi Schilling.
"We started skating together at Casa Carioca in Garmisch with Terry Rudolph. We owe our career to her," Schilling said. "The best advice I had about performing and skating came from her and from Willi."
One skating experience left an indelible impression when the skaters went to Athens in 1954 to perform in the Olympic Stadium. Schilling remembers, "Our Ice Theatre was dwarfed by the huge stadium as we occupied just one end of it at the curve. We needed to start building up ice and the venue was outdoors with weather so hot that any small wind would melt the ice down to the pipes."
She went on to recall, "Someone heard we could get ice from the fish market for a base; then water could be sprayed upon this foundation for skateable ice. Truck loads were brought in and it worked! However, half-way though the show there was a terrible smell. To our horror the top layers of ice had melted and we were skating on fish heads and bones. Each day a new layer of ice was built up and the smell eventually lessened."
Before leaving Europe the Schillings had skated at the Casa Carioca, the Vienna Show, and made guest appearances in European movies. One of her outstanding memories was skating in Moscow with the Vienna Ice Show. Former Soviet leader Nikita S. Khrushchev came to see the show. She recalled the enthusiastic cheers of the Moscow audience.
"I was back in my dressing room and they were still applauding," she said. "I cried."
The Schillings moved to the U.S. in 1962 and joined Shipstads & Johnson's Ice Follies. When asked if life on the road with a U.S. show differed from her European experience, Schilling volunteered she found it much more organized but equally exciting. In Europe, she and Willi traveled in their own car. Skating with Ice Follies, they traveled by train.
"Very, very nice trains," she added. "In fact, I still have my steamer trunk."
A memory that remains is one of a costume problem.
"We were skating to 'Love is a Many Splendored Thing' and the bottom part of my costume was missing. I could only find the top. Willi was already backstage when he was told of the problem and that I couldn't go on. We later discovered the bottom part of the costume was still in an office on Melrose Avenue in Los Angeles. Someone was supposed to bring it to the show after a repair in the sewing room. They forgot and never stopped to think I was pantless without it. So, we missed our performance. This has haunted me for years, and to this day I can't laugh about it."
In 1968 she left Ice Follies and her husband for Los Angeles. Frank Carroll and Tom Lawler, friends from Ice Follies days, invited her to work with their students teaching grace and style at the Van Nuys Iceland. Schilling's dance and ballet training was put to good use. One of Carroll's students was future World Champion Linda Fratianne.
Schilling remembers "When I saw nine year old Linda, I said 'she will be a world champion.' I don't know how I knew but there was just something there. After she did become a World Champion her mother said. 'Why did you not predict an Olympic Championship?'"
An offer to skate in Sydney Australia was presented to Schilling in 1974. This was received with some consternation as she had no skating partner. She went through her options and set about finding a partner. She went to the rink where she found Lawler on a break and approached him with,
"Do you want to go to Australia with me?"
"As what?" he questioned.
"As my skating partner," she replied.
Lawler agreed although adagio was not something he had done. However as a former student of Maribel Vinson Owen he had skated pairs with her daughter (and namesake) Maribel. With this as a foundation he rapidly learned the necessary adagio moves. In September 1974 both Schilling and Lawler left their students behind and went to Sydney for three months where they debuted as skating partners.
They were encouraged to enter the World Professional Championship in Jaca Spain in 1975. Schilling's performance surpassed that of skaters twenty years her junior, and she and Lawler proudly won the Bronze Medal.
Schilling's life was busy with teaching, designing, and manufacturing Inga Creations, and periodic performances with Lawler. Their 1977 guest appearance on the popular TV show Charlie's Angels marked the end of their skating career.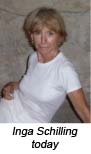 A trip to Mexico introduced her to Bart Varelmann, the owner of the hotel where she was vacationing. They married in 1985 and continued to manage the hotel as well as a home in the U.S. The pressure of trying to run Inga Creations from Mexico led to Schilling's decision to close the business. Now retired from the hotel business, they make their home in Florida.
In 2009, at the age of 76, the energetic Schilling is teaching Yoga, skis, travels, regularly works out at the gym, and has the posture, grace, and verve of a young woman.
Written by Janet Wright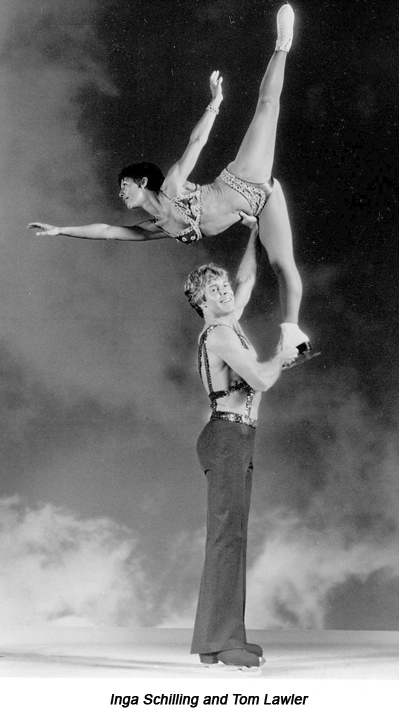 Inga Schilling: Dancer, Skater, Designer