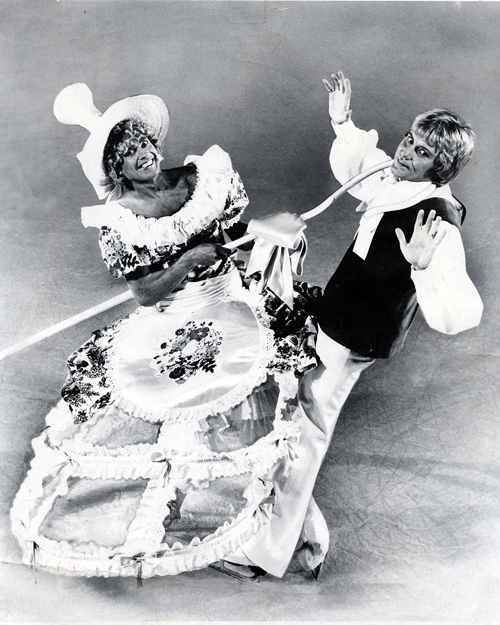 Specialty and variety acts were a crowd-pleasing mainstay of the by gone days of touring ice shows. Comedians, acrobats, barrel jumpers, stilt skaters, and sister acts were developed and long careers were enjoyed in this unique skating niche. Frick & Frack, Freddie Trenkler, Hans Leiter, Terry Head, Guy Longpre, Course and Young, Harris Legg, Paul Andre, The Bruisers, The Scarecrows and Hans Leiter name only a few of the long list of unique specialty acts on the ice.
Many were accomplished figure skaters that reshaped their skating skills by developing ice antics. Ice Follies founders, Edie Shipstad & Oscar Johnson, were early pioneers of professional skating who concentrated on athletic stunts and fancy skating skills to work out elaborate comic skits. Their success eventually led to Ice Follies, the first all professional touring ice show in 1936.
Renowned comedian, Hans Leiter, for instance, competed in ice dancing early in his skating career. Then, went on to perform with both Ice Capades, Ice Follies and Disney's Great Ice Odyssey as an ice comedian.
Two iconic ice comedians that had long, successful careers and performed in major international tours share their memories and insights; Terry Head (English) and Bob Young (also English) of the famous act "Course and Young."
Bob Young and Mike Course developed their act in South Africa in 1973. From the age 14 to 17, Bob Young competed in ice dance in England. Speaking to Young, he tells us that his professional career started with Holiday on Ice Europe where he worked with a number of comedians; Paul Andre, Sam Huston, Bill Wall, Herman Rider, Titch Stock, Guy Longpre and Hami Brown. Reflecting on the early days of Course and Young;
"Actually, the act was started in South Africa (Marge Chase Ster films). I replaced Hami Brown, an English Comedia, in a pantomime called "Mother Goose" (on Ice) where I played Mother Goose. Mike Course played the villain. One day, one of the specialty acts got sick and we were asked if we could go back on the ice and fill in that time slot. Without hesitation we grabbed a few props and never looked back. The time needed was only 8 minutes, we actually did 14 minutes as the audience just kept laughing so we just kept going." He adds, "Our favorite audience? Any and all that laughed!"
Where are they now?
Bob Young has since gone on to be a premier photographer in the Los Angeles area. Young and his lovely wife, June Satton, live in Los Angeles, California where they find that L.A. has everything they desire. "I mean skiing in the local mountains in the morning and bike riding on the beach that same day. Not too shabby!" Young concludes.
Terry Head was a world renowned ice comic who toured in ice shows around the world. Starting in 1950, his wide variety of talents were featured in shows in Brighton, England, both The Scala Ice Review and The Casa Carioca in Germany and later in the Ice Capades where he joined the show in 1964.
"My hero was Red McCarthy," Head remembers at the ages of 16 and 17. He likes to say of his skating background, "I played 'at' hockey," before taking his comedy skating seriously.
He met his wife, Gisela, who at the time was the Swedish National Champion, when she was only 18 years old. They were both touring with the Baier ice show in South America – she as a soloist and he as a solo ice comic. They married a year later and went together to the Casa Carioca show in Garmish, Germany to work with the renowned producer and choreographer, Terry Rudolph. "Terry (Rudolph) loved Gisela!" Head recalls of their early days at the "Casa."
In 1971, the two of them were featured in an American television show called "The Ice Palace" choreographed by Bob Turk. During one of the weekly episodes, the producers asked Head if he and Gisela had ever worked together. He said that they hadn't and that the producers had an idea. He would be a window dresser and she a mannequin that he would try to bring to life. "We put the act together on a Friday night and shot it on Saturday morning!" Head is proud to say. They brought the act to Ice Capades which started at three minutes long, then became so popular that they had to expand it to ten minutes. And the rest is history. That act became the staple of the Ice Capades tours throughout North America.
Where are they now?
Terry and Gisela are no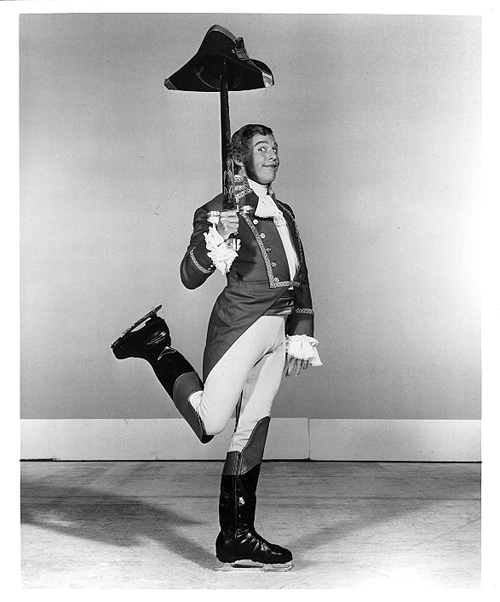 w happily settled in Las Vegas, Nevada where Gisela has opened a dress shop and where Terry continues to work as an actor in comedy theater.
Photo Credits: Blakey/IceStage Archive and Bob Young Photography
Contributing Writer: Don Watson
Written by Susan Austin and Randy Gardner