Lisa Lauten grew up sk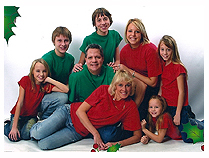 ating in Milwaukee, Wisconsin — a small town, but she had big dreams! Immediately after graduating from High School in 1979, she was offered contracts with both Holiday on Ice and Ice Capades. At her coaches' encouragement she chose the Ice Capades. Lisa toured with the East, West, and Continental Companies from 1979 to 1983. She was cast as an "Ice Capette" but also as a "flyer" by world renowned Peter Foy, of "Flying by Foy." Lisa was also chosen as Ice Capades poster girl for the 1984 to 1985 season. Her other shows have included Fire and Ice at the Hacienda Hotel in Las Vegas, Nevada, and Richard Porter's production in Atami, Japan.
Lisa is currently involved in the biggest production number of her life… raising six children. Gretchen, Tyler, Nicholas, Olivia, Abigail, and Carolyn are directed, choreographed, and produced by Lisa and her husband, Steve Baumann. She met her husband on a golf course while taking a few months off before starting a show in Australia. He literally swept her off the ice. They have been happily married for 21 years and are living just outside of Chicago.
"The friendships I have made during my time in the ice shows are irreplaceable, in fact they are priceless. We became a family. We all shared the same passion, the love of performing. That is the bond that has kept our friendships intact after all these years." ~Lisa Lauten Baumann