"The Golden Age of Ice Shows"
– Your chance to own some classic show skating memories.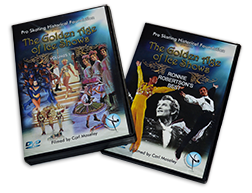 This is a newly published set of five DVDs featuring video clips from the Ice Capades, Holiday On Ice, and other shows — all filmed during the 1960s, 70s, and 80s by Carl Moseley.
Download the PDF order form here!
Featured skaters include:
Ray Ballmer
The Ungers
Ronnie Robertson
Donald Jackson
Jill Shipstad
Paul & Wagner
Richard Dwyer
Petra Burka
Allen & Percelly
Alice Quessy
Paul Heath
The Carruthers
Cutter & Coyne
The Protopopovs
… and many more!
The 5-DVD set includes a bonus DVD featuring Ronnie Robertson's Best!
Proceeds benefit the Pro Skating Historical Foundation
Download the PDF order form here!