Wikipedia gives the hard facts in these few words: "Sonja Henie (April 8, 1912 – October 12, 1969) was a Norwegian figure skater and film star. She was a three-time Olympic Champion (1928, 1932, 1936) in Ladies Singles, a ten-time World Champion (1927–1936) and a six-time European Champion (1931–1936). Henie won more Olympic and World titles than any other ladies figure skater."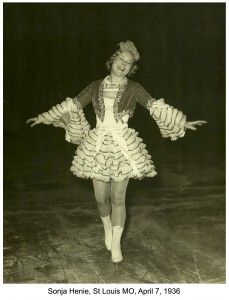 She popularized "fancy skating," inspired generations of skaters, was selfish to the core, mercurial, reached new heights of ruthlessness, and ended up a millionaire. She changed skating forever. Sonja is credited with transforming a demure, predictable activity by recharging it with her determined energy and, yes, creativity. Producers saw her coquettish charm and were smitten.
Short skirts and program choreography were unknown in figure skating before she introduced them in the late 1920s. Henie is credited with being the first to wear white skating boots. While her jumps look very simplistic by today's standard, they showed her innovative skating techniques and confirmed figure skating as a legitimate Winter Olympic sport. A look at the boots of the era in Sonja's 1936 photo shows the only support was found in the 'counter' under the arch. They wouldn't give much support for modern jumping but they did allow magnificent toe point.
During the years that Henie won her world championships, the five-member judging panel was dominated by three Norwegians. Complaints by the Austrian skaters resulted in new rules allowing only one judge per country for each event.
Performances at figure skating exhibitions in both Europe and North America were added to Henie's training and competition travel. It is written that she became so popular with the public in these exhibitions that police were needed for crowd control. It was an open secret that, in spite of a ban on paid performances under amateur regulations, Sonja's father demanded "expense money" for his daughter's appearances. Sonja's popularity suffered briefly when a photograph was published showing her shaking hands with Adolf Hitler at the 1936 Olympic Winter Games in Berlin.
Earl Reflow chaired the organizing committee responsible for bringing Sonja Henie from the closing day of the 1936 Olympics in Bavaria to St. Louis Missouri just 6 weeks later for an International Skating Carnival. Reflow, a former professional boxer, was a visionary when it came to the future popularity of ice sports. He leased the Winter Garden in 1928 and started professional hockey in St. Louis. He later expanded his talents to promoting figure skating and producing ice shows. What bigger magnet to publicize his rink than to present the current Olympic Skating Champion in an international skating exhibition April 7.
Sonja performed several times during her visit to St. Louis, including the routine that won her the Gold Medal at Garmisch-Partenkirchen several weeks earlier. It was truly an international event with the added appearance of Jack Dunn, English champion and silver medalist in the Olympics. Earl Reflow's two daughters, Shirley and Elizabeth, along with many of their fellow members of the St. Louis Skating Club, were excited to skate in the Carnival as amateurs. In the photo to the left from St. Louis in April, 1936 is (L to R) Dorothy Lewis, Josephene Fogassey, Sonja Henie, Len Fogassey, Sam Lewis (father of barrel jumper Buddy) and Shirley Reflow.

Shirley Sherman (nee Reflow) is still involved in skating today as a national judge and has clear memories of the event. "I just happened to be the daughter of a St. Louis sports and entertainment promoter who put on shows in the 1930s featuring local skaters from St. Louis Skating Club and special professional show skaters. I was included because it was unusual for a very young child to be skating at that time."
Knowing my own experience with the famous temper of Ms Henie, I asked Shirley what is was like as a young girl to work with the famous champion.
"Sonja was not friendly as I am certain you know. She came to the US with Jackie Dunn, then Champion of England. He was very friendly and nice and very handsome. He said to a little girl in the show (me) 'Next to Sonja you were the best in the show.' Not true — but he was being nice to a little girl!"
Dunn was Sonja's lover at the time but was later discarded for Tyrone Power. Dunn followed her to Hollywood where he was ignored. He was eventually discovered and scheduled to play the lead in a movie about the life of Rudoph Valentino but was first cast in the "Duke of Westpoint" to give him some experience. He died of Tularmia (Rabbit Fever) just three days into filming.
While still a girl, Sonja planned to move to Hollywood and become a movie star when her competitive days were over. She never gave a thought to the fact that her thick accent might hinder her acting ambitions. Ultimately she was signed by 20th Century Fox studio head, Darryl F. Zanuck; however, it took a little "marketing" to get his attention. According to Look Magazine, February 1, 1938 issue, Sonja, meeting a cool reception in Hollywood, outsmarted the movie capital at its own game. She bought a big white car. Then she rented a rink and put on a show such as Hollywood had never seen. It brought producers to her door, and another star was born.
"Happy Landing" was filmed in 1938 with costars Don Amechi, Jean Hersholt, Ethel Merman, and Cesar Romero. The working titles for this film were Bread, Butter and Rhythm, Hot and Happy and Happy Ending.
The following is a 1938 gossip item by Jimmy Starr, Motion Picture Editor of the Los Angeles Evening Herald and Express:
They couldn't pull a sit-down strike, but Sonja Henie's chorus of 80 ice skaters (40 boys and 40 girls) did refuse to don the ice skates they had used previously for rehearsals on 20th Century-Fox's new frosty musical, "Bread, Butter, and Rhythm." When instructor Bert Clark called the ensemble together a spokesman politely informed him that no member of the chorus would rehearse until new skates – like those worn by Miss Henie – had been provided. Stumped because it is rather difficult to replace 80 trained skaters, the studio promptly agreed to supply the chorus with skates costing $45 per pair. One hundred pairs of skates arrived early Friday morning, long before the rink had been frozen. The 80 girls and boys are now skimming along in a very happy mind.
According to published reports at the time of the movie's filming, Miss Henie received $80,000 for "Happy Landing" and was contracted to be paid $125,000 for each of her next 3 films, but in the January 31st, 1938 issue of Time Magazine, it was thought that maybe those extra films might be poor judgment on Zanuck's part. Still early in her career, by 1938 Henie was ranked by Motion Picture Herald poll of exhibitors as the third biggest money-making star of the year.
Her hip-length stockings cost $35 a pair. She wore out a minimum of two pairs a day while skating. Her hosiery bill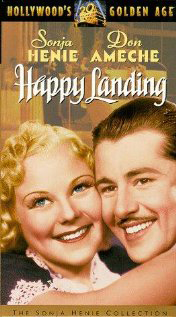 during the making of "Happy Landing" totaled $2,100. Sonja often bought new skates, but soon discarded them for a pair several years old.
Henie became a naturalized citizen of the United States in 1941. In the mid-40s her movie career tapered off, but she continued skating until her retirement in 1960. An astute businesswoman, Sonja was one of the ten wealthiest women in the world when she died of leukemia in 1969.
Sonja says: "The world never puts a price on you higher than the one you put on yourself" and "jewelry takes people's minds off your wrinkles."
That's our girl!
Over the coming months there will be more articles from the wealth of historical information in the Earl Reflow collection used by courtesy of Shirley Sherman.
– Written by Janet Wright
The Three Faces of Sonja Henie: Competitor, Performer, Movie Star