There have been many skating stars throughout the decades, but no one has had the talent and as diverse a life as Belita. She was a professional dancer, actress, swimmer and champion ice skater where she skated for Britain in the 1936 Olympics.
She was born Gladys Lyne Jepson-Turner on October 25, 1923 in Nether Wallop, Hampshire, England. She was given the name "Belita" after a railroad stop that her great grandfather had built in Argentina.
Her professional skating career took her on tour with Ice Capades (1940), Rhapsody on Ice, London productions at Empress Hall; "Babes in the Woods," "London Melody," "Jack and the Beanstalk" and "White Horse Inn On Ice," then her own show, "Champagne on Ice."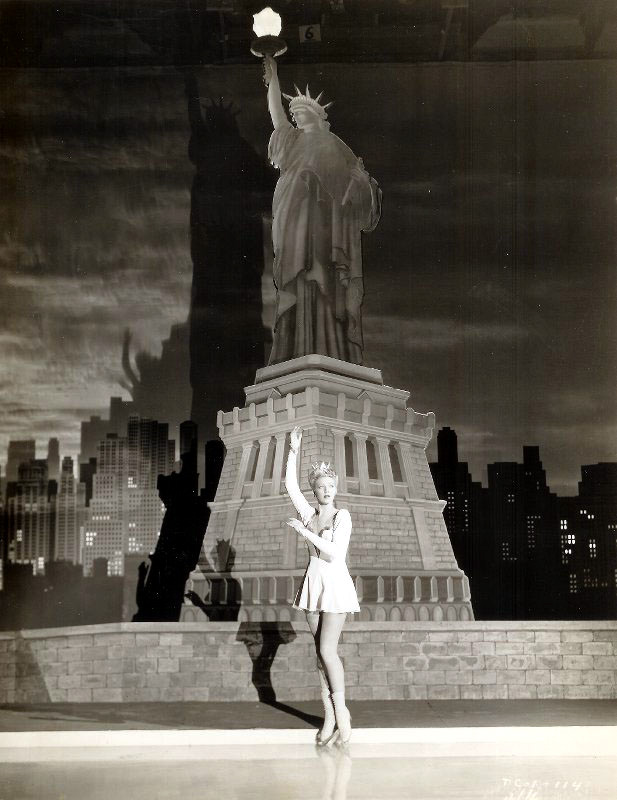 She then parlayed her talents into an acting career in the movies. She starred in several highly profitable productions made by Monogram Studios. Her appearances included Silver Skates (1943), Lady, Let's Dance (1944) and Suspense (1946). Suspense, with its novel mixture of ice skating and film noir, proved enormously popular at the box office and more than repaid the studio's investment. She also appeared with Clark Gable in Never Let Me Go (1953) and played opposite Charles Laughton in The Cherry Orchard. She would often both dance and skate in her movies. She once said, "When I skate I want to dance, and when I dance I want to skate."
In 1946, Belita married Joel McGinnis Riordan (marriage dissolved in 1956) then married second husband James Berwick.
During the 1950's she juggled all her talents and went between ice shows, movies and plays. She worked Off-Broadway in New York in "Ulysses In Nightown" and her other theater shows included "The Cherry Orchard", "Damn Yankees" and "Sight Unseen."
The PFSC Historical Foundation has been able to acquire a 45-minute audio tape of her talking where she is reflecting on her life. We are proud to tell her story and invite you to look at the photographs we have collected of her and brief remembrances by some who worked with her and were her friends.
Belita passed away December 18, 2005 at her home in the south of France.
---
QUOTES:
HEATHER BELBIN
When I was eight or nine years old, I was at Queens Ice Rink when a lady with very blue eye shadow came to the rink and sat at the edge of the ice – that was "Queenie", Belita's mother.
I had only heard of Belita, the wonderful skater, and when she stepped onto the ice, I stepped back and watched this very balletic skater and was enthralled. We shared the same coach, Jacques Gershweiler. I swam at the same club, passed all my ballet tests, just as Belita had done at age 12. Little did I know that I would be called "Baby Belita."
In the show, "Babes in the Woods," at Empress Hall, I was cast as Girl Babe to Belita's Robin Hood. During rehearsals, Gersh taught me a new spin that was so different. I practiced that spin until I had it so good! Then put it in my solo.
I did not know that Belita had a lesson with Gersh, and he taught her the same spin. Uh Oh! While Belita was watching the dress rehearsal of the show and saw that spin in my solo, she jumped out of her chair, came onto the ice and slapped my face. She said, "How dare you copy any of my tricks!" After a time, it was sorted out with management and she apologized in front of the whole cast.
Many years later I was invited to a party at the house in Hamersmith that was on Grabtree Gardens. I was worried she would be nasty to me. Instead, she latched onto me and stayed with me the evening. Seems she did not put together that I was the little girl skater from years back that "copied" her spin!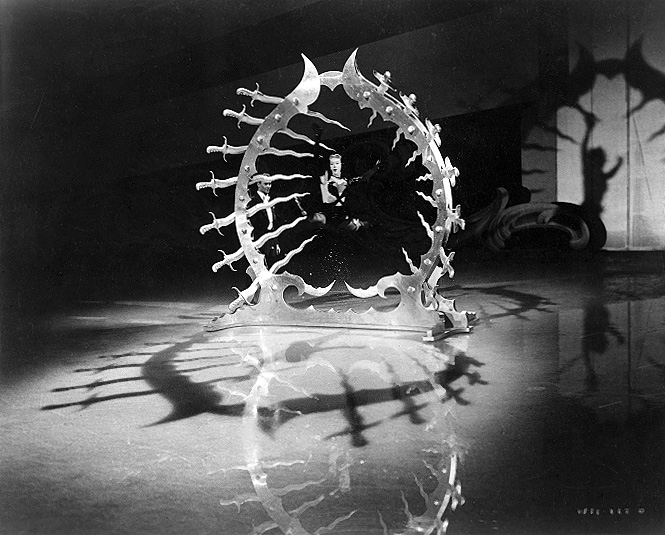 I was always very happy anytime someone said that I reminded them of Belita. Her skating would still stand up today as very special.
BOB TURK
When I first saw Belita, it was in Ice Capades in about 1944 more or less. Also in the show were Megan Taylor and Vera Hruba. These ladies always skated to classical music and tended to present themselves in a very dramatic routine. Belita was one of these ladies.
While her skating was spectacular, she had very little personality — very serious and almost defiant when she completed a series of axels or whatever.
The next time I met her was at the old Polar Palace. She skated the public session almost daily and really didn't speak to anyone. She, at times, would skate around with Eugene Mikeler. That changed later when Mikeler introduced her to me. We would get out in the center of the ice and do double camels together and jump lutz jumps and see how many axels we could do in a series. She usually won. Along with us was Chado. We really had a lot of fun. Her mother, Queenie, was always with her. We always smiled because Queenie had purple hair. This was back in the 40's and that wasn't seen on many ladies. She too was very British but nice. Belita told me about how her skates became beige. Her mother, when "B' was young, had them done pink like toe shoes. Belita hated them and changed them to flesh color.
In 1945, she married a guy who used to hang around with skaters. He seemed to be working at becoming an actor. His name was Joel McGuinness.
Then in 1949, I staged and choreographed a large show that went to Havana Cuba. Belita was the star of the show along with Red McCarthy. Joel was signed to do a short dramatic number with B. I don't remember the idea for the number, but at the end, Joel was supposed to shoot Belita. Very dramatic. One night Joel got a little too close to B and the residue from the gun burned her chest. It was all over the news the next day.
I'm skipping ahead to 1967. At that time I had been signed by Ice Capades to do their shows. One day my secretary, Bill Bain, came into my office to tell me there was an English speaking lady who wanted to speak to "Bobby." It was Belita. That is what she had called me in those earlier years. She explained that she wanted to do a "tank" show on a 20 x 20 ice surface. She wanted the ice to be made in squares of 2×2 foot squares like a chess board. She explained that she would have a toe shoe on one foot and an ice skate on the other.
During the course of this conversation, she asked me if I had ever heard of Peggy Fleming. I explained to here that I had worked with her for 10 years creating her style and teaching her ballet. Belita remarked, "Of course, I can see that now that you mention it."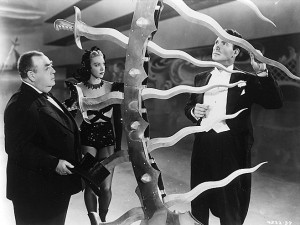 It wasn't until several years later that while traveling to Paris I stopped in London and found her phone number and called her. She insisted that I come over right then and there. I dropped my luggage and spent the whole day and evening with her. She had married for the second time, and the two of them had a lovely nursery. They would hire out-of-work actors in the nursery. It was wonderful seeing her after all those years when she had moved back to England. She showed me a solid gold set of flatware.
While performing in Paris, she couldn't take money back to London so she bought this gold flatware. It was worth a ton of money! I suggested that I would love to take her to dinner. She declined saying that she never went out in public unless her hair was done and that she had something very chic to wear. That was part of her fantasy that she was still a star and that she owed that to her public.
MOVIE REVIEWS (by Susan Austin)
"Silver Skates" 1943
"Silver Skates", Belita's first movie, includes close to 45 minutes of skating. Belita and Eugene Turner are the featured skaters. Eugene is smooth and elegant with long sweeping edges, simple jumps and spins. Belita is truly a dancer on the ice with great extension, rhythm and execution. Her numbers stylistically range from ballet to modern to jazz. Some of her moves include the headless spin, battement rond de jambe, interesting moves that take her into the ice, chaines, split half lutz and a series of multiple axels. Together Belita & Eugene skate two duets that truly approach Fred Astaire and Ginger Rogers on the ice.
Also included in the film is a complete act by Frick and Frack, a young boy and girl who solo and partner together, and large ensemble and precision numbers.
"Lady Let's Dance" 1944
The first four movement scenes are dance, not skating. This movie gives us a chance to see Belita as dancer. She does some e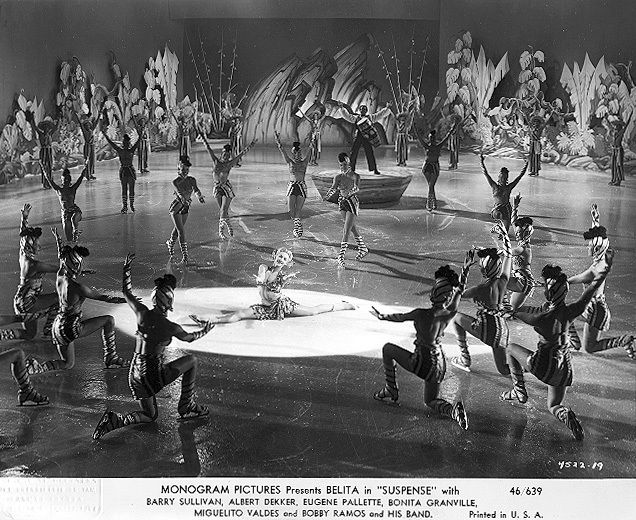 xcellent partnering scenes with numerous lifts and dance rhythms. One number displays her classic vocabulary where she dances on pointe and is backed up by 12 dancers also on pointe.
Another number featuring Belita blends both off and on ice with men in top hats and tails. She moves between the two groups of men where she begins with a long black skirt that is removed as the music turns to jazz. As she skates she is backed up by 12 men.
The movie closes with Belita skating in front of the Statue of Liberty to Beethoven's "Fifth Symphony". It is very dramatic — performed in a modern/ballet style. All of her signature moves are in the number, and this time it has seven axels in the end.
Frick and Frack are featured in two numbers, and there are two skating scenes with couples skating in a pond scene.
"Suspense" 1945
Belita's best known movie, "Suspense" has two great skating ensemble scenes featuring Belita that are jazzy, steamy and sexy. One number ends with an axel landed in a back split on the ice, wow! In the middle of the movie is a beautiful, dramatic modern/ballet solo with nymph-like quality. It shows a more serious side to Belita and her adagio qualities.
The famous scene of her lutz split jump through the swords is quite remarkable. Belita herself said she only did the scene one time. When the director asked to shoot it again, she told them that once was all they were going to get.
"The Hunted" 1948
"The Hunted" is the last of the films where Belita skated. There is only one dramatic solo in this movie that is dimly lit with a couple of spots.
---
CREDITS:
The Pro Skating Historical Foundation would like to thank the following for their contribution with their time, artifacts, and knowledge in helping us write this piece:
HEATHER BELBIN, BILL BLACKBURN, ROY BLAKEY, JOE MARSHALL, BOB TURK AND BILL UNWIN.