Nestled in the picturesque Bavarian Alps of Germany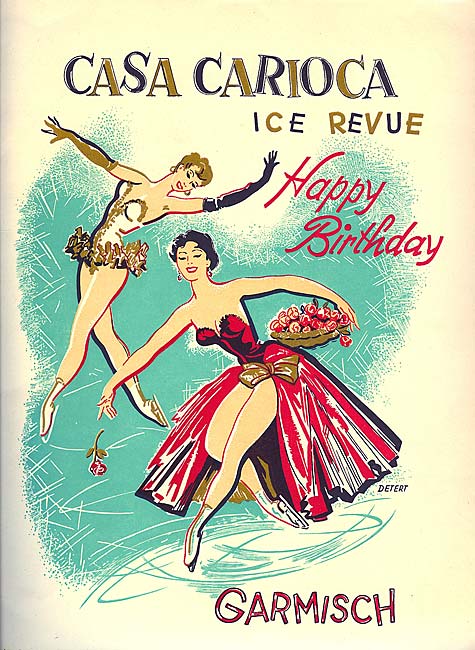 was a small but important nightclub called the Casa Carioca. It was located at the U.S. Army base in Garmisch-Partenkirchen where the military forces would go for vacation and take their leaves.
Constructed originally as an open-air Spanish style club, later the Alpine cool weather required that a retractable roof be built. This nightclub was the place to be if you were a professional skater. The "Casa" was a nightclub that featured an ice show. Many of our skating colleagues performed there, and we are proud to share their memories in this feature.
The early shows there were directed and performed by German skaters. Then in 1950, the Casa was produced and directed by Terry Rudolph.
Terry was a dancer with Hungarian heritage, but was raised in America. She produced the Casa until 1968. The building was then destroyed by fire in 1970. Terry really groomed her skaters to become top-notch performers, training them in the fundamentals of ballet by giving daily dance classes and personally choreographing each of their numbers.
At the Casa, Ms. Rudolph produced shows that had a cast of roughly 35 skaters on an ice sheet of 30 feet x 40 feet with a 17-piece live orchestra. The ice stage was under a removable dance floor for dancing, and diners could enjoy their dinner while watching the ice shows.
She later came back to the U.S. and choreographed and stylized many skating champions. Working at the Ice Capades Chalet in Santa Monica, California, she was hired by John Nicks to "polish" his skaters. Among them were Tai Babilonia and Randy Gardner, one of the writers of this piece.
Randy: "When Terry came into our lives our skating career changed. She was responsible for our style, unison, and overall presentation. She prepared us for our debut with the Ice Capades, and her influence has remained in our skating ever since."
Tai: "She helped me realize it was okay to be a girl, especially in the awkward years. She sprinkled the magic on our skating career."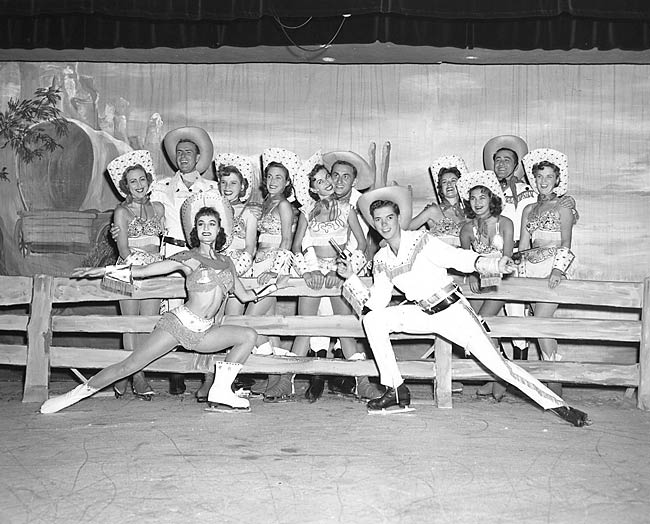 Two of the Historical Foundation's Honorary Board members, Don Watson and Roy Blakey, share their memories of the Casa Carioca:
Don: "The first time I met the diminutive Ms. Rudolf was in Paris in 1955. I was appearing with 'The Sonja Henie Ice Revue' at the old Palais des Sports and she expressed an interest in my coming to Garmisch. When the opportunity arose, I jumped at the chance and arrived at the Casa Carioca in January 1958 for a 3-month stay before joining Holiday On Ice in France."
"Terry's reputation resulted in her being courted by the most influential ice show owners and producers from Ice Follies, Holiday On Ice, Ice Capades, to Marjorie Chase, Merriel Abbott, and others. Terry Rudolf was a unique icon whose contribution to show skating is immeasurable and long lasting."
In 1954, Roy Blakey joined the show. The productions that year were "States on Skates" with Cathy Steele and Blair Heimbach with Jo Ann McGowan and "Happy Birthday" with Dick Price, Peter Voss, T. Bacherer and B. Griffin.
Roy: "Skaters talk about wanting to someday find, or create, a place where they can train, have access to dance class and display their improving skills in regular performances. It makes me smile because I had all of that in my first show at the Casa Carioca."
A young 16-year-old girl from Garmisch, named Cathy Steidl, started her professional career at Casa Carioca. She later would become known as Cathy Steele and part of the crowd pleasing adagio team of "Romaine and Steele." The team performed for many years in Ice Capades during the 1960's.
Cathy remembers her time at the Casa: "I was under age and really should not have been in the club. Terry took me in to replace another girl. I started my pair skating there with Blair Heimbach." After one and a half years at the Casa, Blair and Cathy left the show and went on to do work at the Hilton and then at the Empress Hall. After the team fi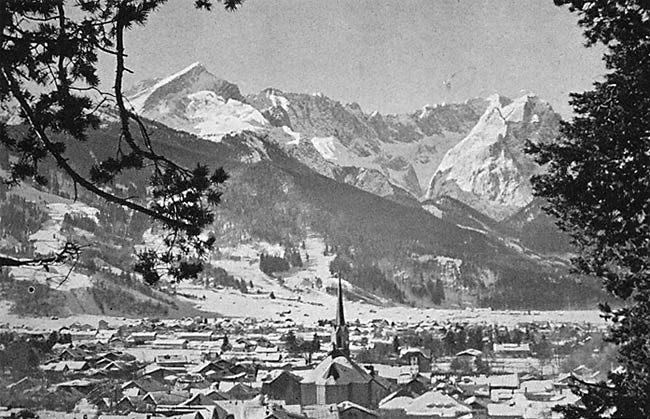 nished skating together, John Harris, owner of Ice Capades, sought her out to skate with a man looking for a partner, Phil Romaine.
She says, "Phil and I had never met before. We had mutual friends and Phil's old partner, Terry Brent, had seen me. I had know of him through his work at the Lido in Paris. But, still we had never met in person. I was brought in to try-out with Phil and then it happened."
Even though Cathy had left Garmisch, she stayed in touch with Terry. She would visit home in Garmisch during her time off and Terry and Cathy formed a life-long friendship.
Terry taught her about being a versatile performer and the tricks of having a long career. "She taught us how to handle our careers," Cathy says. "Sometimes I would ask her advice or give her an idea I had. If she said, 'Let me think about it,' I knew that meant 'no!' "
Paul Sibley, who first skated with Ice Capades, later came to the Casa. He worked in the show from 1958 to 1960. He says, "I made the transition from chorus boy to principal. It's when I broke through. Everyone skated in the chorus and also had a spot. Terry emphasized presentation, stretch, body alignment. She especially worked on upper body presentation with the skater. It was a tremendous experience."
Roy Blakey adds, "The Casa was a great place to finally fulfill my long-held dream of getting in a show. On my way to work each evening during my year and a half there, I'd look up at the snow-capped mountains and say, 'thank you!'."
Terry Rudolph passed away on January 5, 2005 in Los Angeles, California.
We'd like to thank the following people for their contribution to this article: Roy Blakey, Cathy Steele, Paul Sibley, Don Watson, Tai Babilonia
Historic photos provided by: Roy Blakey, The IceStage Archive, 413 East Hennepin Ave., Minneapolis, MN 55414-1005 Phone: 612 627 9938, Email: iceroy1010@aol.com.
Written by Randy Gardner and Susan Austin