We invite you to recommend additional links for this page!
Organizations That Promote or Research Show Skating:
Roy Blakey's IceStage Archive — Over a period of almost 70 years – fifteen of which were happily spent performing around the world in ice shows – Roy Blakey's still-growing collection has developed into The IceStage Archive, dedicated to preserving the world-wide history of theatrical skating.
Professional Skaters Association — The Professional Skaters Association (PSA) was organized in 1938. The PSA is the official figure skating coach's education, training, and accreditation program for the U.S. Figure Skating and the Ice Skating Institute.
ProSkaters – Connecting talented skaters with show producers! ProSkaters is non-profit organization dedicated to educating professional figure skaters and other interested individuals about current professional figure skating issues. Within this mandate, ProSkaters conducts research to assess current professional figure skating concerns; particularly those related to equitable compensation, working conditions, retention of quality professional events, and dissemination of information.
World Figure Skating Museum & Hall of Fame — The World Figure Skating Museum & Hall of Fame, located in Colorado Springs, Colorado, is the international repository for the sport of figure skating. The greatest names in figure skating are honored in the World and U.S. Hall of Fame. Induction into the Hall of Fame is the highest honor a figure skater can achieve. The Hall of Fame includes such distinguished skaters as Jayne Torvill and Christopher Dean, Dick Button, Scott Hamilton, Ekaterina Gordeeva and Sergei Grinkov, Midori Ito, Sonja Henie, and Katarina Witt.
Show Skating Books, DVDs, etc:
Push Dick's Button: A Conversation on Skating from a Good Part of the Last Century–and a Little Tomfoolery by Dick Button —
With many "nuggets of skating training and history," this book includes stories about Katarina Witt, Peggy Fleming, Johnny Weir, Brian Boitano, Dorothy Hamill, and more, including today's champions, such as Evgeni Plushenko, Davis and White, and the latest sensations.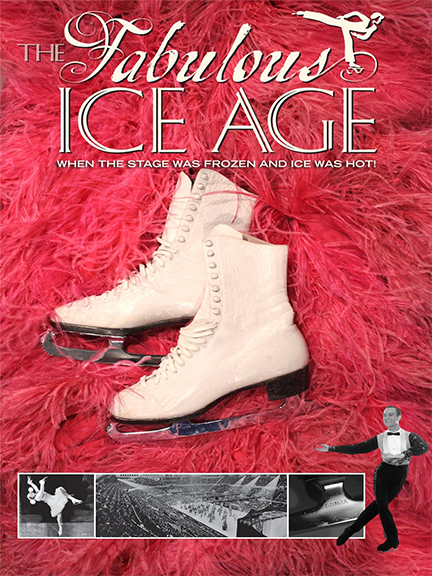 The Fabulous Ice Age DVD – "The Fabulous Ice Age" chronicles the era of the great American touring ice shows revealing how, with their dazzling production numbers and variety acts, they dominated family entertainment for decades. It also depicts one skater's quest to keep this history from being forgotten. The ice shows' creation and success changed the lives of skaters and audiences alike – eventually exporting American culture around the world. Released June 2014. Actors: Dick Button, Scott Hamilton, Robin Cousins, Nancy Kerrigan, Roy Blakey Director: Keri Pickett Web Site
Memories of the Great American Ice Shows — The book describes day-to-day activities on tour, provides a glimpse behind the curtain, and introduces a cast of unique and colorful characters who created or participated in the success of the great shows. Memories of The Great American Ice Shows is a funny, touching one-of-a-kind memoir about an American phenomena that blossomed, flourished and then passed into history never to be seen again.
International Figure Skating Magazine — Profiles of many famous skaters with a searchable database of all of the IFS articles written about those skaters over the years.
Ice Show Productions, Producers:
Advanced Entertainment Group — Advanced Entertainment Group has created shows for every type of venue that inspire and amaze families of all ages. From established brands such as Christmas on Ice and Hollywood on Ice to specific shows designed around a company's needs, Advanced Entertainment Group is the perfect choice for anything on ice.
Anschutz Entertainment Group (AEG) — AEG owns and operates a variety of venues, sport teams and entertainment productions.
Arena International's "Illusions On Ice" – Best known for tours in Mexico.
Crystal Ice Show – Lucie Crystal Ice Shows offers "spectacles on ice" in France.
Disson Skating – For over 25 years, Steve Disson has created figure skating/entertainment specials on NBC, CBS, ESPN, USA Networks, BRAVO, Hallmark Channel, Style Network and Ovation Network.
Europa Park Ice Show – the largest amusement park in Germany features a spectacular ice show. YouTube Video
Feld Entertainment's Disney On Ice — Disney On Ice combines the incredible talents of world-class ice skaters and heartwarming Disney stories, lavish costumes, dazzling lighting and enchanting music to create an extraordinary show for families around the world. Each year, a new production of Disney On Ice is created to bring favorite Disney characters to families around the world. Audiences can sing and dance with their Disney friends such as Mickey Mouse, Donald Duck, the Disney Princesses, and the Toy Story gang in a series of wondrous ice spectaculars. There are 8 different Disney On Ice productions playing to audiences around the world.  Link for Performer Auditions Information.
Holiday On Ice — Over the past seven decades, the words Holiday on Ice have gained a special meaning throughout many parts of the world. Holiday on Ice has become a brand name for top quality ice entertainment. It is now a division of Stage Entertainment with tours primarily in France. With almost 70 years of experience in international touring and promotion of Holiday on Ice shows, Stage Entertainment Touring Productions produces and promotes shows worldwide such as Ice Age Live! A Mammoth Adventure and Holiday on Ice Speed. Stage Entertainment Touring Productions is the European arena promoter and producer for family entertainment.
Hot 'n Cold Shows International – Nicky Scott's productions focus on European locations such as Spain YouTube Video
Ice-America — Ice-America specializes in the creation, planning, and performance of live and televised ice skating entertainment.
Ice Cold Combos and Ice Cold Productions — Ice Cold Productions is focused on bringing music, art, and performance to the ice through collaborations of "limitless potential."
Ice Dance International – The mission of Ice Dance International (IDI) is to create classical and contemporary ice ballet with a professional company. IDI serves to educate and inspire by providing mentorship, creative opportunities, collaboration, teaching, outreach and performance.
Ice Maxx Productions — Ice Maxx has a long association with figure skating and is steeped in history. Years of experience bring quality skating to every show. These family fundamentals in performance stem back 60 years. The Swenning family has national, international, and Olympic skating awards. They have a strong foundation in ensemble skating ,refinement, detail in movement, and overall skating quality is linked to the Next Ice Age –with performances at the Kennedy Center and The American Dance Festival.
Ice Theatre of New York — Founded in 1984 by Moira North, Ice Theatre of New York has changed the face of figure skating by creating works that integrate the sensibilities of contemporary dance, music and art challenging the perceptions and conventional definitions of figure skating. Its mission is to elevate dance on ice as a performance art. ITNY was the first ice dance company to receive dance program funding from the National Endowment for the Arts, the New York State Council on the Arts and the New York City Department of Cultural Affairs.
Ice Weber – Cast skaters in "Circus On Ice" productions in Greece and Malta, among other venues.
Illusion On Ice – This company specializes in creating high quality, exciting, fast moving ice shows for all occasions worldwide.
Imperial Ice Stars – Their productions emphasize performances on the theatre/stage. Their shows feature powerful story-telling, sumptuous sets, spectacular special effects, and opulent costumes. The Imperial Ice Stars have presented shows at some of the world's most prestigious venues – London's Royal Albert Hall and Sadler's Wells, Singapore's Esplanade Theatre, Montreal's Place des Arts, and Cape Town's Artscape.
Magic On Ice — A Moscow-based ice show, Magic On Ice has been performing and producing ice skating shows in Russia, India, South Korea, Mexico, and other locations since 2003.
The Next Ice Age — A Dance Company On Ice… The Next Ice Age exists to present figure skating as a respected and undeniable dance form through performance and education. They do this by developing finely trained skaters to perform new works and repertoire that engage audiences and enrich life.
Rand Enterprises & Productions — REP is a full-scale production company specializing in the creation, development and production of television and live figure skating, theatrical & branded content entertainment.
Rosstyn Ice Shows — Rosstyn Ice Shows & Rink Designs, Inc. produces elaborate shows for theme parks, casinos, festivals, malls, fairs, dinner theaters, hotels, theaters, corporate and private or fund raising parties. They provide the opportunity to see professional performances by adagio pairs with their breathtaking moves, male and female star soloists with talented skaters which together perform lavish productions numbers with elaborate costumes, lighting, sound, special effects, scenery for each production and unique specialty acts on ice: jugglers, comedians, magicians, singers and more.
The Russian Ice Stars – Known for "Peter Pan On Ice" and "Snow White On Ice."
Sabrina Cappellini Ice Show – Based in France.
Stars On Ice — Starring Olympic and World champions, Stars On Ice is billed as North America's premier skating tour.
Sun Valley Ice Shows — Every summer, Sun Valley delivers an original season of ice shows highlighting new stars, impressive athletic routines, and fresh music.
Wheeler Productions' Magic On Ice — "ILUSIO" is the critically acclaimed ice spectacular that has entertained millions of people across America, Europe and Asia and the Middle East. A unique fusion of ice skating, illusion, and performance art is incorporated into a thrilling series of larger than life magical moments. Awe-inspiring costumes, music, scenery, and lighting create a surreal environment. Spectacular aerial acrobatics, jaw dropping illusions and thrilling ice artistry unite in an explosion of fire on ice.
Willy Bietak Productions — Created by nine-time Austrian pair champion and two-time Olympian Willy Bietak, Willy Bietak Productions is a full-service worldwide company specializing in high quality live entertainment, ice skating shows, state-of-the-art portable ice skating rinks, industrial shows, specialty acts and costumed characters. They have produced such skating spectaculars as The Ice Capades®, Le Ice Show®, Broadway on Ice®, Holiday on Ice®, Festival on Ice®, Royal Caribbean Cruise Ice Shows, and more!
Woodstock Ice Productions – Woodstock Ice Productions was created to continue the legacy of the Charles M. Schulz, who produced theatrical ice productions starring Snoopy and the many iconic Peanuts characters. With her background in professional figure skating, as well as live theatrical family entertainment, Jill Schulz-Transki, the youngest daughter of Charles M. Schulz, continues to oversee the production of all Snoopy ice shows in order to maintain the integrity and quality of all Woodstock Ice Productions.
Please send us your recommendations for additional links or corrections to these links! Thank you.