In the early 1900s, pioneering professional skaters performed miniature ice revues in hotel supper clubs on small portable ice stages called "tanks." The directors and performers who created those first tank shows adapted show biz production and performance elements still used today from the then popular vaudeville shows and lively Broadway musical revues.
Seeing ice skaters dancing on real ice in an elegant theatre restaurant was, in and of itself, a crowd-pleasing novelty, but to capture the attention of an audience at tables, eating and drinking, it was vital to present a mix of top talent, skill, beauty, and humor. With a rink only 20′ x 22′, the cast would usually consist of a female and male soloist, an adagio pair, variety acts, and a bevy of four to six pretty ice dancing chorus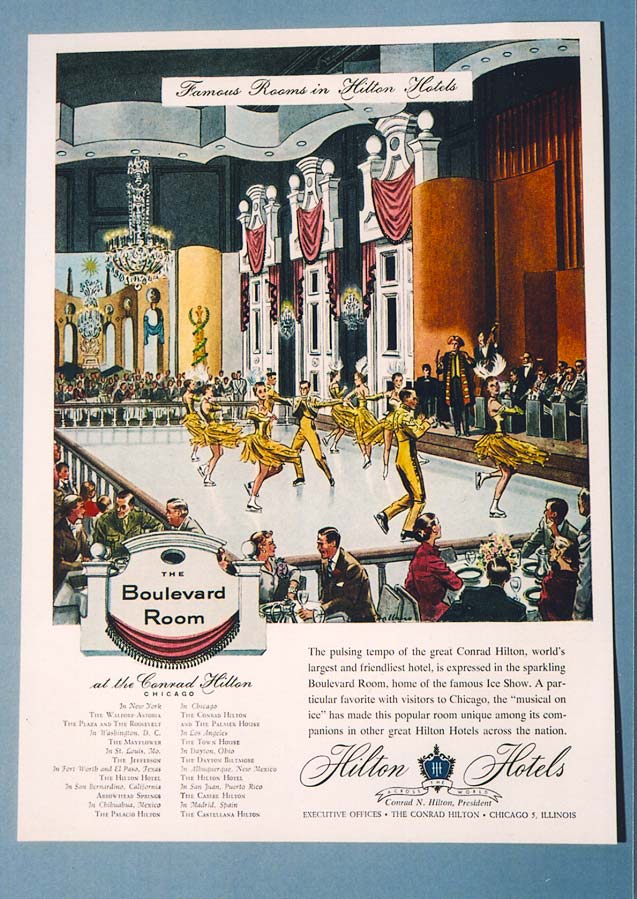 girls. The live orchestra might even be conducted by a big name like Woody Herman or Benny Goodman. After the show, the rink would slide away under the bandstand and the audience could dance.
The first permanent ice tank was installed in the College Inn of Chicago's Hotel Sherman in 1914. Their innovative skating shows ran for years and became a great Chicago attraction. The following year two ice productions opened in New York City; a small tank show was staged in the popular Roof Garden cabaret of Shuberts 44th St. Theatre, and a lavish ice ballet imported from Germany was the sensational final act of the Hippodrome Theatre's huge stage extravaganza "Hip Hip Hooray."
Skating became the rage and tank shows sprang up everywhere. Healey's Golden Glades at 66th St. & Broadway in New York City installed a permanent ice stage. The Morrison Hotel in Chicago opened an ice carnival in their Terrace Garden to rival the Sherman's famous, established College Inn skaters. Soon there were ice shows at the Hotel Winton in Cleveland, the Biltmore in New York City, the Muhelbach in Kansas City, and Cafe Bristol in Los Angeles.
In the pre-television World War II years, people enjoyed dressing up and going out to glamorous clubs for diversion. Tank shows were frequent and popular attractions at such elegant spots as the Iridium Room of New York's St. Regis Hotel, Benjamin Franklin Hotel's Terrace Garden in Philadelphia, The Nicolett Hotel's Minnesota Terrace in Minneapolis, and the New Orleans Roosevelt Hotel's Blue Room. Great early tank stars Dorothy Lewis, Arnold Shoda, Phil Romayne & Terry Brent, and George Arnold were in demand in the 1940's and 50's.
The Hotel New Yorker in N.Y., Copley-Plaza in Boston, Conrad Hilton in Chicago, Adolphus in Dallas, Sheraton in Ft. Lauderdale, FL, and Flamingo Hilton in Las Vegas became known for the excellent mini ice musicals that they presented, in some cases for as long as twenty years. In Las Vegas many hotels have offered lively ice revues (occasionally with topless skating showgirls) including the El Cortez, Thunderbird, Hacienda, Stardust, Caesar's Palace, and Luxor. Atlantic City's Trump's Castle, Tropicana, Bally's Grand, and Harrah's have delighted many an east coast audience with ice entertainment. In the 21st century, six of the world's largest floating hotels, Royal Caribbean Lines colossal cruise ships, offer superb ice shows that are a smash hit with their passengers. And the beat goes on.
We are pleased to present photographs of some historical material from these productions, graciously provided by the Roy Blakey IceStage Archive/Minneapolis, MN/ Email: iceroy1010@aol.com.
Written by Roy Blakey
Concept by Susan Austin and Randy Gardner